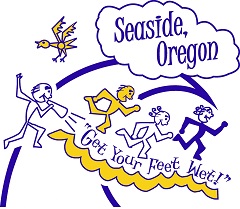 The Seaside Beach Run is a community event that has been a part of Seaside's history since 1966.  Next year's Beach Run offers several races and activities to meet the needs of a broad range of runners and walkers; activities include 5K and 10K beach runs, timed and non-timed 5K walks on the historic Promenade in Seaside, and a free "Kid's Sand Dash" and Treasure Hunt for children under 12 years old—with prizes awarded in several age groups.
Next year's Seaside Beach Run is scheduled for Saturday, July 21, 2018. The course will begin and end at 12th Avenue at the North Prom beach access, and the entire event will be held on the beach to avoid traffic safety concerns and to celebrate Seaside's coastal beauty.  At the conclusion of the event, join us for an awards ceremony and free picnic lunch with food, drinks and prizes.
We're inviting you to support this charity event that encourages fitness, promotes community spirit, and showcases the best of the northern Oregon coast—and now benefits our local school children.  This annual event is produced by Fit To Be Teens, Inc. — a 501 (c) (3) non-profit charitable organization. Net proceeds of all of Fit To Be Teens, Inc. charitable events go to provide fitness opportunities for Clatsop County middle and high school students, including gym memberships and fitness assessments, especially for teens not involved in competitive sports. 
Registration opens February 1, 2018. You can conveniently register online by visiting raceroster.com, runsignup.com, or active.com and entering "Seaside Beach Run" in the search window—or if you prefer, you can download the registration form here, then complete it and mail it to us.  If you register by mail, make your check or money order payable to "Fit To Be Teens, Inc." (please do not send cash). If more convenient, we can also accept MasterCard or Visa Payments by phone; if you make your payment over the phone, please check the "Paid by phone" box on your registration form.
Adult registrations include your souvenir event T-shirt for pre-registrations as supplies last, so register early and indicate your size when you register; children are invited to participate in our free Kids' Sand Dash and Treasure Hunt (free, but pre-registering helps us prepare by knowing the number of participants, and children's T-shirts are available separately).  We hope you can be there to help us get off to a running start!
Race Day Schedule
7 – 8:30 am   Race Day Registration (souvenir t-shirt may not be available)
8:45 am         5K RaceWalk begins
8:50 am         5K PromWalk begins
8:55 am         5K/10K Runners will be escorted to the starting line for further instruction
9:00 am         5K/10K Races begin
10:30 am       Kids' Dash begins
10:45 am       Treasure Hunt begins
11:15 am       Awards Picnic begins
11:30 am       Awards Ceremony begins